Cleaner Cookstoves, Cleaner Air, Cleaner Earth
Uganda has a population of nearly 49 millioni and it's estimated that 95% of Ugandan households rely on charcoal and wood for their household cooking needs.ii Globally, the number of people using cookstove fuels such as wood, charcoal, animal dung, crop residues and coal is estimated at three billion.iii Taken together, traditional cooking practices are estimated to produce more than 1 billion tons of carbon dioxide (CO2) each year.iv
These emissions result from two sources: deforestation and cooking.
The harvesting of fuel is driving deforestation and forest degradation; however, it is not an easy problem to fix. Such is the dependence on charcoal, it is known by traders in Kampala as "black gold".v Due to the level of demand, and the cost to the consumer, illegal logging is rampant.vi
Uganda lost 967,000 hectares of forest cover between 2001 and 2021, or a 12% decrease since 2000, generating an estimated 438Mt of CO₂e emissions.vii And, once the trees are chopped down, they must be burned to produce the charcoal. The process is extremely inefficient with up to 12.6 tons of wood needed to produce one ton of charcoal.viii
There is a simple solution that can be rolled out quickly: fuel-efficient cookstoves. Today, a wide range of improved cookstove technologies exists. The cookstoves are fuel-efficient by having a superior heat transfer efficiency thereby reducing charcoal use by up to 50%.ix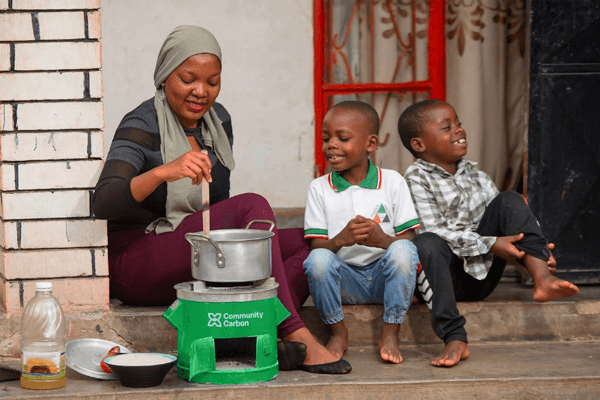 Improved cookstoves are gaining attention not only for reducing greenhouse gas emissions, but also for advancing several United Nations Sustainable Development Goals, such as reducing poverty and improving human health outcomes. According to Project Drawdown, one of the world's leading resources for climate solutions, if policies for promoting clean cooking worldwide are aggressively implemented, then reductions in carbon emissions could amount to 31 to 76 gigatons of CO2e from 2020 to 2050.x
Carbon Streaming has entered into a carbon credit streaming agreement with Community Carbon launched by UpEnergy Group to bring fuel-efficient cookstoves and safe water solutions to millions of households in eastern and southern Africa. UpEnergy has successfully operated carbon projects for more than a decade which have resulted in approximately 3 million tonnes of emission reductions to date.
The portfolio under the carbon credit stream comprises seven energy-saving projects: three cookstove projects and four safe water projects (water purification systems) spread across sub–Saharan Africa. The aim is to reduce approximately 50 million tonnes of CO2e emissions over the 15 to 21-year lives of the projects.
Each fuel-efficient cookstove comes with a variety of cost-effective, energy saving innovations that reduce charcoal use with a cumulative effect on local forests. Manufacturing and distribution of stoves will be carried out together with local communities. This will help strengthen local ecosystems, reduce pressure on local forests, and create hundreds of direct and indirect jobs thus stimulating economic growth. The portfolio goes further than traditional cookstove projects. Revenue generated by the projects will be reinvested in local community initiatives which support the education and empowerment of women and girls (who are often disproportionately affected by climate change). There are also plans for local tree planting programmes to help re-establish community forests and eco-systems.
Together, we can all help to keep the world's homes cleaner, safer.
You can find more information on Carbon Streaming's exciting new stream by reading our news release, and by visiting our page on the project at our website.
Stay up to date with the latest Carbon Streaming news and new Carbon Blog posts by signing up to our email list and following us on Twitter and LinkedIn.
---
i Uganda Population (2022) – Worldometer (worldometers.info)
ii MECS: Cooking with Electricity in Uganda: Barriers and Opportunities (Uganda Bureau of Statistics, 2017)
iii Three Billion People Cook Over Open Fires ― With Deadly Consequences (nationalgeographic.com)
iv The World Bank, "Household Cookstoves, Environment, Health and Climate Change: A New Look at an Old Problem", 2011
v https://www.charcoalproject.org/news-charcoal-is-ugandas-black-gold/
vi Black gold: Report pins security for protecting charcoal cartels (independent.co.ug)
vii Global Forest Watch
viii https://www.fao.org/3/x2740e/x2740e05.htm
ix Technology — UpEnergy Group
x Clean Cooking | Project Drawdown
Forward-Looking Information: Some of the posted entries on the Carbon Blog may contain forward-looking information. Forward-looking information address future events and conditions which involve inherent risks and uncertainties. Actual results could differ materially from those expressed or implied by them. For further information about the risks, uncertainties and assumptions related to such forward looking information we refer you to our legal notice.